Mega Slow Mole
A downloadable game for Windows, macOS, Linux, and Android
Sega Megadrive/Genesis 16-bit sequel to the NES-game Slow Mole. https://slowmolestudio.itch.io/slow-mole

As Slow Mole you can get a checkpoint on any screen, but only if you beat the timer. Each level requires speed and strategy. Featuring a new thumping FM/chiptune soundtrack from Slow Mole composer prodigy Linus Rosenlund (one of the tracks is heard in the trailer).
Early access beta version. It's a full game with 80+ levels, but some content yet to be added. Free demo also available.

Final version will feature a few more levels for the early game as well as secret screens, challenge levels and more music. Currently the soundtrack features six chiptunes (one in a shorter unfinished version.) Sound mix will also see some fine tuning.
Expected full launch 2023, including cartridge release.

By supporting this game you'll help getting it to the finish line sooner. We'll also make sure every supporter gets a discount on the upcoming cartridge release. And you'll also get access to the full digital version of the game when it's finished.
Download includes Megadrive/Genesis ROM file. Playable using an emulator or flashcarts on actual hardware (or clone consoles as such as the Mega SG).
The game now autosaves the last checkpoint. The next time you start the game you'll find an optional warp that takes you to where you last left off.
More news about Slow Mole:
https://twitter.com/SlowMoleStudio

https://www.patreon.com/erikrosenlund

Press kit:
https://www.mediafire.com/file/4k4g18q8y2cetem/MegaSlowMole_Presskit.zip/file

Programmed in C using the SGDK toolset.


| | |
| --- | --- |
| Status | In development |
| Platforms | Windows, macOS, Linux, Android |
| Author | SlowMoleStudio |
| Genre | Platformer |
| Tags | 16-bit, 2D, Cute, Mega Drive, Pixel Art, Retro, Sega Genesis, Singleplayer, Speedrun |
Purchase
In order to download this game you must purchase it at or above the minimum price of $12 USD. You will get access to the following files:
MegaSlowMole_legacy_versions.zip
1 MB
MegaSlowMole_Beta.bin
1 MB
Download demo
Comments
Log in with itch.io to leave a comment.
Hello! This game looks so nice! The graphics is in classic style, like the games for Nintendo Entertainment System. Great!
This looks fun, though will older versions ever be up for download again?
Yes, it was confusing with two demos, but I uploaded the early access demo again as part of the payed content. All those levels are part of the free demo now though.

This looks beautiful! I featured your game in our round-up of recent Retro Indie Games!
Hi, I am very interested in your game but I have a question. If I buy the demo will that give me access to the finished game when it is released? I ask this because it's a little bit unusual to pay for a demo rom, (on itch.io) especially at the price that you have listed here. Thank you for supporting the Sega Genesis/ MD.
Yes you will! Think of it like pre-buying the game. There's going to be a free demo later as well based on the earlier levels of the game. This demo is more to show off the game for supporters; it's frankly maybe a bit hard for players who haven't played Slow Mole or similar games before. If you support the game you'll also get access to the beta version when it drops later this spring.

Okay thank. That's great news. I've seen a lot of projects get released, but sadly I have seen just as many end up in demo limbo. Just being cautious.
If you do have a go at the demo, there is already quite a lot of gameplay to be had. And don't feel bad if you die a lot, one of the worlds best retro game players did too. From speedrunner and controller maker extraordinaire Skunky48's twitter account: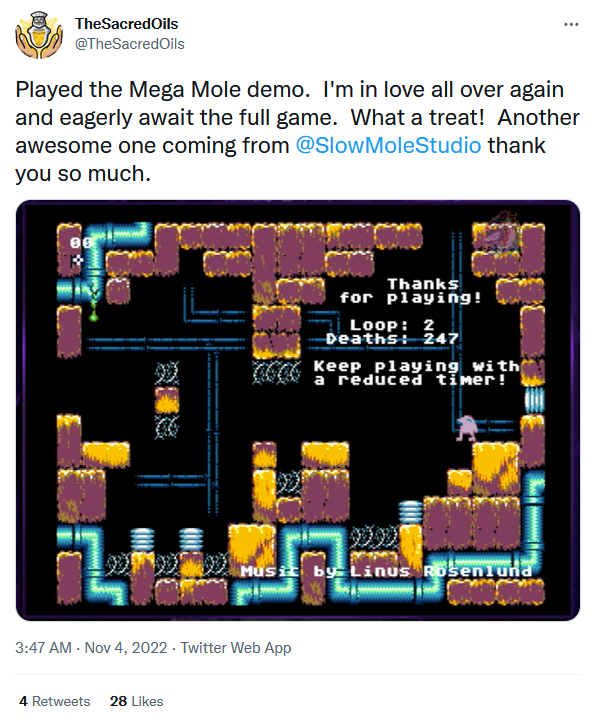 its actually insane how dedicated you are to this concept. mad respect!

Thanks! I had several ideas I want to develop further with a 16-bit processor that can handle more advanced physics, while still keeping most of the advantages of a platform like the NES, such as super fast inputs (no lag) and a simplified color palette for clarity. Also, when working on a new platform it really helps to already know the game design and physics engine you want to create. It makes working with SGDK (a fantastic toolset to create Megadrive games in C) for the first time much more manageable.